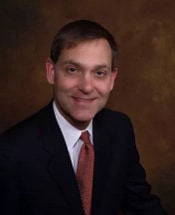 Commercial and Business Litigation
Employment Litigation and Advising
Financial and Consumer Class Actions
Probate and Trust Litigation
Title Insurance and Escrow Litigation
Paul has practiced for more than 30 years as a litigator. A main area of practice is representing investors in mortgage-backed securities (MBS) and similar financial litigation. In addition to complex commercial litigation, Paul has experience in financial and consumer class actions, title insurance and escrow litigation, and general breach of contract and breach of warranty claims.
Paul has recently expanded his practice to probate administration/litigation, and employment law, representing both employees and employers in all aspects of the employment relationship, from hiring to termination.
Regarding his MBS experience, Paul successfully tried back-to-back jury cases against Bank of America in Ohio (see news release) and Oklahoma (see news release) where unanimous juries found that LaSalle Bank (which was acquired by Bank of America), breached numerous representations and warranties in originating and securitizing four separate commercial loans. These cases are believed to be the first two CMBS repurchase cases ever to be tried to a jury. Paul's CMBS work was featured in an article in the Kansas City Business Journal (see article).
Comprehensive and voluminous discovery conducted by Paul in the individual repurchase lawsuits revealed numerous underlying systemic flaws in the LaSalle Bank loan program, which ultimately led to the filing of a global repurchase lawsuit against Bank of America (see news release). This federal court lawsuit sought the repurchase of approximately 750 multifamily loans – nearly all of the loans that LaSalle Bank securitized in two CMBS pools – each pool originally containing nearly half a billion dollars in commercial multifamily loans.
Prior to establishing the Snyder Law Firm in 2007, Paul worked at two of the largest law firms in Kansas City: Shook, Hardy & Bacon and Polsinelli, where he handled complex commercial litigation for clients on a national basis, as well as title insurance and escrow, breach of contract and other commercial disputes, fraud claims and employment non-compete claims in state and federal courts across the country. Paul also has extensive products liability experience, serving as both national and local counsel for numerous manufacturers, pharmaceutical companies and product suppliers.
Before joining the private practice of law, Paul was a criminal prosecutor for two years in Johnson County, Kansas. Paul graduated from the University of Kansas School of Law, where he was Note and Comment Editor of the University of Kansas Law Review, and member of the National Moot Court Team. He holds a B.S. in Journalism from the University of Kansas. Prior to law school Paul was a television reporter for the NBC affiliate in Wichita, Kansas for five years.
University of Kansas School of Law, Lawrence, Kansas

Honors:
National Moot Court Team, Member

University of Kansas, B.S. Journalism
Kansas
Missouri
U.S. District Court District of Kansas
U.S. District Court Western District of Missouri
Supreme Court of the United States of America
Legal and Community Activities
Johnson County Bar Association, Solo/Small Firm Committee and Probate Committee
Leawood Chamber of Commerce
Overland Park Chamber of Commerce
Polsinelli
Shook, Hardy & Bacon
Johnson County District Attorney's Office